田浦ゼミの学生たちが、Mitsui Educational Foundation (MEF) Study Tour of Japan 2022 で来日したオーストラリアの大学生の皆さんの、京都滞在中のツアーガイドを務めました。以下、学生たちのレポートと笑顔をご覧ください。
Amanda Taura's seminar class members had an experience meeting Australian university students in Kyoto on November 30, 2022. The visiting students were taking part of Mitsui Educational Foundation Study Tour of Japan 2022.


I had a good experience spending a great time with the international student from Australia. They were kind while sightseeing in Kyoto. I am glad it was so enjoyable.  In particular, I wanted to go to Australia even more because I was told about tourist spots in Australia.  It was a day when I learned the difficulty of English, and a day when I remembered the fun of English again.  If there is another opportunity, I would definitely like to participate. Thank you so much allowing me to join this event (Haru).



We walked from Nishiki Market to Yasaka Shrine. Also, we went to Starbucks that is Kyoto style. We ended up at Kiyomizu-dera Temple to watch the sunset and take lots of pictures with everyone. I could experience cross-cultural exchange with the Australian students. I could gain a lot of knowledge about what is popular in Australia now. (Ami)
 The experience of tour guiding was a good opportunity to speak English with the Australian students in Japan. It has been a while since I spoke in English with native speakers in person and it made me to want to go to study abroad again and I was encouraged to study English more and more. In addition, I was surprised that I could make great connections with my partner whose name is Lucy within 1 hour. We talked about a lot of things, such as how did I study English, how long was I in New Zealand and about my relationships. I am thankful to Amanda for giving me such a huge opportunity and it reminded me study English hard (Taka).
Taka and I took Callam and Lucy to Ichinen-zaka street and Ninen-zaka street first. Here we enjoyed the view of the Machiya and went to Starbucks. The reason why we went to this Starbucks was because there were tatami mats and it felt very Japanese. Next, we went to Yasaka street. Here we could see Machiya with the five-story pagoda. Next, we went to Sanjusangendo-temple, but it was closed, so we went to Kyoto Tower in a hurry. Kyoto Tower offered a panoramic view of Kyoto and even Abeno Harukas in Osaka. Finally we made a money offering at a small shrine. (Hayase)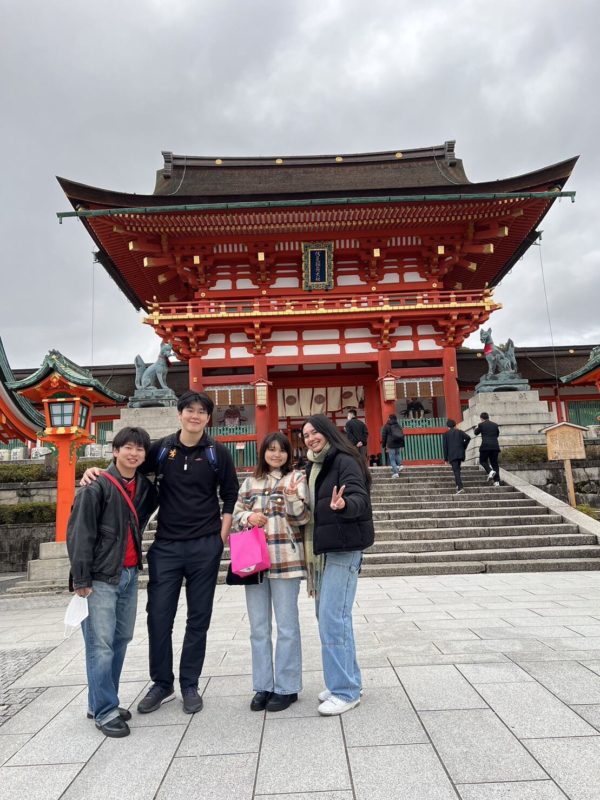 I felt many things after completing my first tour guiding in my life. Before the tour, I was anxious about guiding international students in unfamiliar places in Kyoto, and communicating with them. However, they were very kind and friendly to me even though we had never met before, so I was able to guide them smoothly with a load off my shoulders. After the tour, the most important thing I thought was not to be too self-conscious during the tour. I learned that it is important to relax and be natural when guiding, and I felt that this was the key to a smooth tour. (Yusaku)
We went to Nishiki market, Fushimi Inari Shrine and to a recycling shop near Kyoto station. I was a little afraid because I didn't have the opportunity to speak English with people from another country since coming back to Japan from Canada as a high school student. However, the students from Australia kept on talking to me so I could talk with them a lot. We walked a lot so we were very tired but It was so nice to meet students from Australia. I had a great experience. Also, I spend great time with students from Australia. I will do my best to improve my English skills. (Rin)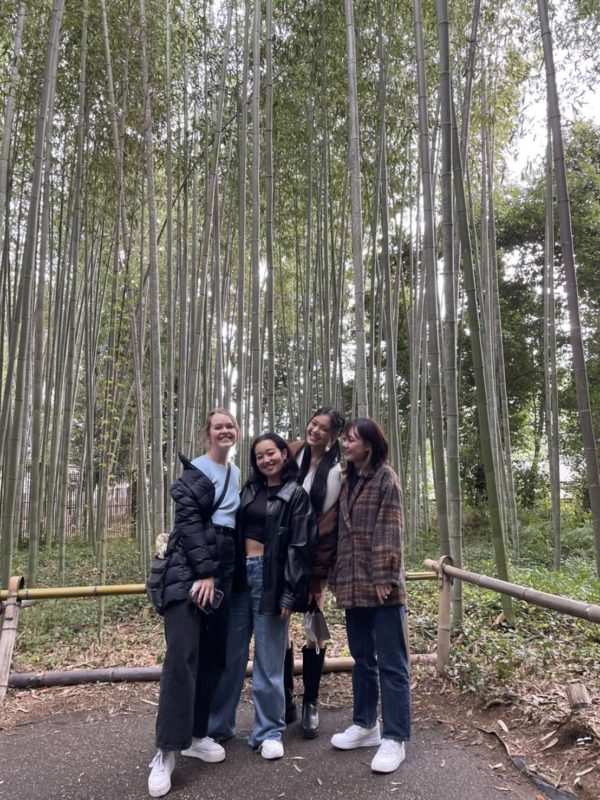 There are two highlights with the Aussie students. The first is a visit to the bamboo forest in Arashiyama. The bamboo forest was very beautiful and the Aussie students were very interested in it. We also enjoyed taking each other's pictures. The second is a visit to a supermarket near Kyoto Station. From our point of view, it was a normal supermarket, but the Aussie students seemed to enjoy the many unique Japanese products. I was nervous at first, but I was able to talk a lot and had a great time with the students. (Kana)
We went to Arashiyama. We went through the bamboo forest path and felt the misty atmosphere and had a very nice time. After that, I tried to go to the cafe at Yojiya, but it was too crowded. On the way to see the Togetsu-kyo Bridge, we found a nice store and drank honey lemon and yuzu lemon together. After seeing and taking pictures of the Togetsu-kyo Bridge, we returned to Kyoto Station and went to Skyway at Kyoto Station for a panoramic view of Kyoto. After that, we went to the Japanese supermarket that Ailene had wanted to go to and saw lots of food and products! We talked a lot, took a lot of pictures, saw a lot of places, it was a lot of fun! (Saki)